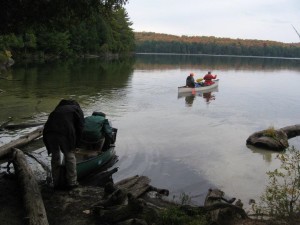 Pastor's Canadian Canoe Trip 2017, "Into The Silent Land."
Sept 17-25, 2017
This trip is open to clergy and others engaged in pastoral ministry.  Click on link for the Registration 2017brochure
    New regulations require anyone going to Canada to have a current valid Passport.
    While no previous wilderness or camping experience is required, you must be in good physical condition. (A list of training requirements will be sent to you upon receipt of your deposit.)  The better prepared you are  physically the better experience you will have spiritually.
    You will be expected to have read and be willing to reflect on a book (TBA).  A journal will be kept during the trip by each participant for personal reflection and integration of the experience. You will participate in assigned reflections and worship experiences on the trip.
    You will need to pay a non-refundable $50.00 deposit by June 1, 2017 and the remaining $480 by August 31, 2017 (total cost is $530)     
     Registration is limited to 8 participants and will be on a first come, first served basis.
NOTICE:  This is a physically aggressive trip. It is imperative that you be in good physical condition for this trip.  You need to get in shape for the canoeing and hiking that is involved.  If you have any pre-existing conditions that may affect your ability to hike and canoe, we are requiring that you receive your doctor's approval to take this trip.  Also at the "shakedown" in August we will be evaluating each person's physical condition, more than likely with a one mile timed run or a facsimile there of.
Please your non-refundable $50.00 deposit made out to Harper Brady.  
Send to Rev Harper Brady,  5005 State Route 151, Hookstown, PA  15050

MORE QUESTIONS??  Contact Howard Gaston at hsgaston060885@gmail.com or call 802 Six Three Three 2309